Post by /\/\att on Jan 4, 2008 8:09:33 GMT -5

ALFRED PENNYWORTH
ALFRED PENNYWORTH BIO
Within the confines of his role as butler to the Wayne estate, Alfred raised Bruce and, on occasion, continues to provide him with veiled wisdom. Like The Batman, Alfred is younger, in his early 50s, and more physically robust, yet not quite the unflappable Alfred of usual Batman lore. The cape and cowl are new enough that Alfred is still growing accustomed to them. Thus, we witness his genuine concern for Bruce's safety when Bruce goes up against the likes of Joker, Penguin, Mr. Freeze and the will of the Rogues Gallery.
--voiced by Alastair Duncan

Alfred Episodes:
Alfred has appeared in all Season 1, 2, 3 & 4 Episodes to date,
with the exception of 'Riddled' (season two, episode two)
----------------------------------------------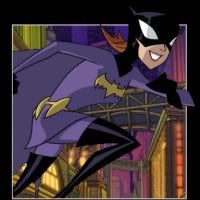 THE BATGIRL
BATGIRL / BARBARA GORDON BIO
Barbara Gordon is the hip teenage daughter of Commissioner Gordon. Strong-willed and quick-whitted, she becomes inspired to don her own cape and become Batgirl, fighting crime alongside the Batman. The only problem is that the Batman never asked her for help. Not easily brushed aside, Batgirl continues to fight crime until she gains the approval of the hero who inspired her -- The Batman.
--voiced by Danielle Judovits

Batgirl Episodes:
season three: Batgirl Begins pt. 1 (1st appearance), Batgirl Begins pt. 2, A Dark Knight to remember, RPM, Brawn, Fleurs Du Mal, The Laughing Cats, Thunder, The Apprentice
season four: Team Penguin
----------------------------------------------
THE BATMAN
BATMAN / BRUCE WAYNE BIO
Only in his third year, pre-"Bat Signal," The Batman currently operates as a vigilante. Under the cape and cowl can be found a younger Bruce Wayne in his 20s. The media is more likely to catch him courtside at a Gotham Gators game or strapping on a helmet to drive his own racecar for a charity than in front of City Hall cutting a ribbon. But don't confuse the swinging bachelor persona for the real Bruce -- he's intense, driven and completely focused on his life's mission to serve as the Dark Knight. Aided by technology he's secretly developed -- including the operating system known as the Bat-Wave -- and driven by the childhood memory of the loss of his parents, Batman takes to the streets in order to bring Gotham's new breed of super villains to justice.
--voiced by Rino Romano

Batman Episodes:
Batman has appeared in all Season 1, 2, 3 & 4 Episodes to date
----------------------------------------------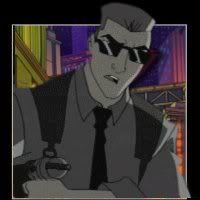 CASH TANKINSON
CASH TANKINSON BIO
A ruthless cop who was assigned as Yin's partner after Ethan Bennett's accident, Cash Tankinson is an ego-maniac that thinks he's a well built cop who can handle any challenge. His first target, the Joker, ended in a failure, as he was gassed. After being cured, Cash made another appearance as Bruce's bodyguard. Bruce's life was being threatened by the wacky and insane Toymaker after his company was permanently shut down by Wayne Enterprises. Once again, Cash's actions ended up costing him. He was captured on duty by Toymaker and was the bait to lure Batman into Toymaker's ultimate Toyland. Once defeating Toymaker and his hazardous toys, along with the help of Cash, Batman gave him credit to prevent Cash from dropping to an even lower level of law enforcement.
--voiced by Patrick Warburton

Cash Tankinson Episodes:
season two: JTV
season three: Cash for Toys
----------------------------------------------
CHIEF ANGEL ROJAS
CHIEF ANGEL ROJAS BIO
For Chief Rojas, The Batman is nothing less than a black eye to his police force. Believing there is no room for vigilante justice in Gotham, Rojas has made capturing the Dark Knight a top priority.
--voiced by Edward James Olmos in S1, Ep1
--voiced by Jesse Corti in all other eps

Chief Rojas Episodes:
season one: The Bat in the Belfry, The Rubberface of Comedy, The Clayface of Tragedy
season two: Riddled, Fire & Ice, Strange Minds, Night & the City
----------------------------------------------
COMMISSIONER JAMES GORDON
COMMISSIONER JAMES GORDON BIO
Jim Gordon believes the Batman is a valuable partner for fighting crime, so he has paved the way for the once vigilante Dark Knight to work hand in hand with the police. He hopes that partnering with the Batman will make Gotham a safer place for his daughter Barbara.
--voiced by Mitch Pileggi

Commissioner Gordon Episodes:
season two: Night and the City
season three: Batgirl Begins pt. 1 & 2, A Dark Knight to remember, RPM,
Brawn, Fleurs Du Mal, Thunder, Gotham's Ultimate Criminal Mastermind
----------------------------------------------
DETECTIVE ELLEN YIN
DET. ELLEN YIN BIO
Detective Ellen Yin is as physically adept as any male cop she knows. Ellen may be new to the Gotham beat, but she's no rookie. Previously head of her department in Metropolis, she transferred to Gotham looking for new challenges. She?s a career cop at the top of her game, true blue and by the book. Not warming to Bruce Wayne so easily, Ellen doesn't have it out personally for The Batman. It's simply cut-and-dried. As a vigilante, he's breaking the law. Not seeing past his swinging billionaire persona, she despises his seemingly silver-spoon arrogance.
--voiced by Ming Na

Detective Ellen Yin Episodes:
season one: All Episodes
season two: The Cat, the Bat & the Very Ugly, Riddled, JTV, Meltdown
season three: none
----------------------------------------------
DETECTIVE ETHAN BENNETT
DET. ETHAN BENNETT BIO
If Bruce Wayne could call anyone his best friend, Ethan Bennett is it. They've been friends since high school. Whereas his partner, Detective Ellen Yin, sees things in black and white, Ethan sees the grey in most everything -- and is more willing to allow The Batman to co-exist with the Gotham P.D. In fact, he often finds himself pondering if this caped vigilante he is chasing is actually helping the city. In the season finale of season one, Ethan is affected by the Joker's scheming, and transforms into the hideous and evil Clayface!
--voiced by Steve Harris

Detective Ethan Bennett Episodes:
season one: All Episodes
season two: Meltdown
season four: TBA
----------------------------------------------
MAYOR MARION GRANGE
MAYOR MARION GRANGE BIO
Marion Grange, the mayor of Gotham, is a close friend of the Wayne family. A shrewd politician, he nonetheless buys into the irresponsible bachelor image Bruce cultivates, creating some grief for the young billionaire.
--voiced by Adam West

Mayor Grange Episodes:
season one: The Big Heat
season two: JTV, The Laughing Bat
season three: A Fistful of Felt, The Apprentice, Fleurs Du Mal, Thunder,
Gotham's Ultimate Criminal Mastermind
----------------------------------------------
ROBIN
ROBIN BIO
details coming very soon!
--voiced by Evan Sabara

Robin Episodes:
season four: A Matter of Family, Team Penguin
----------------------------------------------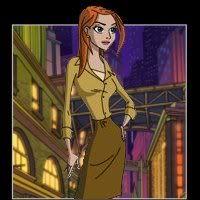 VICKI VALE
VICKY VALE BIO
coming very soon
--voiced by Tara Strong

Vicky Vale Episodes:
DTV feature film: The Batman Vs. Dracula (1st appearance)