Post by /\/\att on Jun 19, 2007 12:49:10 GMT -5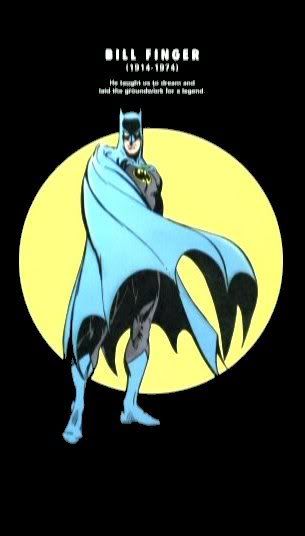 Who is Bill Finger?
featuring exerpts from:
TheComicBooks.com
Batman's unaccredited co-creator: Bill Finger
Bob Kane is known as Batmans creator. But is the Batman that you see wearing only wearing bright red costume, stiff black bat wings attached to his arms, a black domino (Robin style) mask? That was the Batman that Bob Kane created. It's Bill Fingers Batman that you know today.
William Finger was born February 8, 1914, in New York City. He attended a DeWitt Clinton High School, the same as Robert (Bob) Kane. The two never met as students as Bill Finger was a couple of grades ahead of Bob Kane. The two would meet later when Bill was a shoe salesman. The two had a mutual love of newspaper strips and comics. They read characters like The Shadow and Doc Savage. Kane and Finger would work together and create "Rusty and His Pals", a kid strip and later "Clip Carson", a world traveling adventurer.
In 1938, Superman would create a boom in the comic industry and DC would go looking for another hero. Bob Kane would come up with a character called The Batman. After creating this character he phone up Bill Finger, and showed him the sketch of the Batman. Finger felt the character looked too much like Superman and suggested some changes.
"I got Webster's Dictionary off the shelf and was hoping they had a drawing of a bat, and sure enough it did. I said, 'notice the ears, why don't we duplicate the ears?' I suggested he draw what looked like a cowl... I had suggested he bring the nosepiece down and make him mysterious and not show any eyes at all... I didn't like the wings, so I suggested he make a cape and scallop the edges so it would flow out behind him when he ran and would look like bat wings. He didn't have any gloves on. We gave him gloves because naturally he'd leave fingerprints."
Bill Finger also wrote some of the early Batman stories. In doing so, he created the personality of Batman and turned him into a great detective. "My idea was to have Batman be a combination of Douglas Fairbanks, Sherlock Holmes, The Shadow, and Doc Savage as well."
Finger went on to give Batmans alter ego the name of Bruce Wayne, and later named his sidekick Robin (Dick Grayson). He named Batmans hometown Gotham City, and contributed in the creation of many of Batmans villains. The Cat-woman, Penguin, Riddler, Two-Face, and Clay-Face were among them. While Bill Finger didn't create the Joker, he did write the first Joker issue in Batman #1.
Bill Finger really enjoyed mystery novels. He would often use that style of story in the Batman comics. He would also use giant props in the stories because they were good visuals for the readers. He often did the research that artist usually does for the prop scenes. He was very good in writing them, the artist didn't have to guess what was going on.
But throughout his career Bill always had a problem meeting deadlines. He once delivered a first page of a script stapled to a bunch of blank pages in order to get paid early.
Bill has worked on much more than just Batman, he created the original versions of Green Lantern and Wildcat with artist Irwin Hansen. He also went on to work on Superman, Superboy, Wonder Woman, Flash, Atom, Challengers of the Unknown, Tomahawk, and many others. He at one time worked for Marvel Comics and wrote Captain America and the All Winners Squad. Bill also did some work outside of comic books. He co-wrote the 1969 film "The Green Slime" and wrote for many Warner Brothers TV detective series of the 60's. Some included 77 sunset Strip, Hawaiian Eye, and The Roaring Twenties.
Also during the 60's Bill was one of the long time creators that DC fired when they asked for some health benefits. He later went back to work for DC in the 70's and wrote some a few mystery stories, he then died in 1974.