Post by /\/\att on Sept 10, 2007 9:43:13 GMT -5
LOG has been around for over
FOUR YEARS
now, bringing fans all levels of exclsives, news and fun!
Take a moment to check out the original homepage that started it all:
The Beginning!
back in the day...mid 2003
Then, when I first launched Legionsofgotham.org, it looked like this:
January 2004
and soon evolved into:
the next phase
In the summer of 2004 I tried this new design out:
Summer of '04
I wasn't pleased with it, so I soon took it down to replace it:
be back soon...
and in August I launched this:
August '04
Which was also just god awful, lol. Looking back on my site design as it developed over the years tends to be painful! But in this design you can finally start to see what was to become Legions of Gotham as it looked for many years.
Then, with the launch of the much anticipated cartoon, The Batman, LOG found its nitche in the Bat-world. WB asked us to begin promoting the show on our homepage and we worked very closely to rope in fans of all ages to the show:
The Batman launches!
By October of 2004 I had polished the design a bit:
coming together..
Our The Batman site had gone from getting hundreds of hits earlier in the year to thousands virtually overnight, once the show hit the air.
The site continues to evolve:
..better...
and by the time summer of 2005 rolled around Batman Begins was sweeping the net. We got a lot of attention during that time as well, with hits at an all-time high. We were featured in a number of magazines and newspapers around the nation.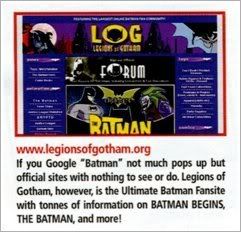 I had the site molded into what I wanted at the time:
It begins!...
By the end of 2005 the site was starting to take a better shape:
end of 2005
I decide that after years of using the light gray backround, the site needs to darken up and get a little cleaner:
the darker knight...
...and that look continues to evolve:
gettin' there..
and evolve:
changes, changes everywhere..
and finally, in early 2007 I decided that the design didn't reflect my personal tastes enough, so I shut it all down for a big re-launch.
Currently, the site is down again, being all converted over to our forum, for a one-stop Batman experience. The costs of running the site were just too great, so I took a bold move and began integrating everything into one place. I am currently being assisted by our staff in getting LOG back up and running smoothly.
Thanks for all of the great years Bat-Fans. I appreciate all of the emails and calls about the anniversary! I almost forgot it myself! You can always contact us at
LegionsOfGotham.org@Gmail.com