Post by /\/\att on Feb 18, 2005 13:47:02 GMT -5
[shadow=green,left,300]In what is easily one of our best interviews yet, we get into comics, batman and more with artist and LoG member Tim Sale!
Thanks again so much Tim![/shadow]
**********************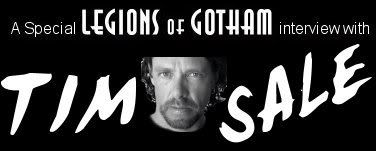 Tim Sale. The name itself makes fanboys giddy! (at least this one!) He's brought Bat-Fans amazing work in Long Halloween, Dark Victory, Detective Comics, and most recently the mini-series Catwoman: When in Rome! We sit down with Tim to get inside the head of one of the bat-elite and see what makes him tick!
LoG: Who's Your Favorite Bat-Villian, and why?
TS:
It used to be the Joker, but now it's Two-Face. I love the Joker's wacky violence, and I look forward to drawing him probably more than any other villain, but I really respond to Harvey's pathos. Especially the way Jeph writes him.
LoG: Favorite Comic you're reading right now?
TS:
I don't read many comics, I'm sorry to say, and I'm pretty ignorant of buzz in the industry. NEW FRONTIER came as a big surprise to me, totally out of the blue. I just responded to the Mary Blair-inspired cover, knew Darwyn to be a majorly talented guy, and picked it up. I liked everything about it, it's sensibility, the wide open nature of the art, Dave Stewart's amazing colors and textures that seemed somehow old-fashioned and contemporary at the same time. I have no history of the DCU, so I couldn't recognize a lot of the characters, but I was intrigued. Couldn't wait for the next issue, and I don't recall the last time I felt that way. More about Darwyn in the answer to a later question.
LoG: Any characters you love, but find challenging to draw?
TS:
Poison Ivy. All those leaves.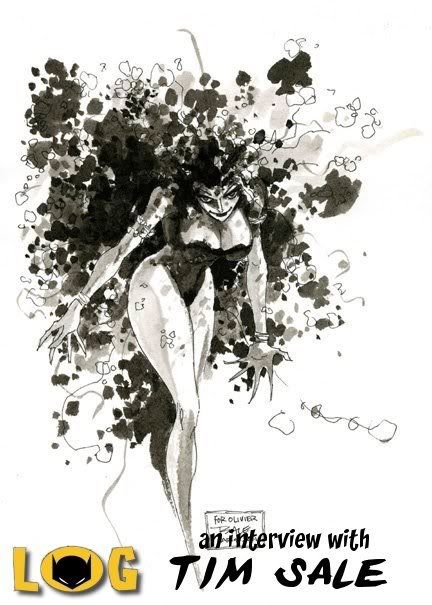 LoG: Your work on Grendel has become seminal for fans ofthat mythos. Do you find it funny that, while the Grendel costume is such an iconic part of the mythos,that you've barely had the chance to draw it?
TS:
Yes, and I give Matt endless Poop about it. He threw me a bone by asking me to do a story in BLACK WHITE AND RED, which, what do you know, won an Eisner.
LoG: During the Grendel: 'Devil's Reign' arc the 'Orion'sSword' logo was ever evolving. Was this a choice madeby the writer, or was that your own personal touch?What personal touches did you add to the story?
TS:
I don't recall whose idea it was, but I suspect it was Matt. He's very design oriented, and was frequently coming up with visuals to populate the series. As far as my own touches, I came up with the two different looks for the Orion storyline and Pellon storyline. I was really into the woodcut look at the time, I remember, and that was my attempt at that. It seemed to fit the kind of "newspaper" aspect of that part, and the more free-flowing look on the back story felt right also, as the vampires were so outrageous. You can see the various influences of the books I was looking at at the time throughout -- the one vampire that looks like Jaime Hernandez, for instance.
LoG: What projects lay on the horizon for you...DC/Batman and otherwise?
TS:
II still am under exclusive contract with DC for another project or two. What's been discussed are a SPIRIT graphic novel called THE CHRISTMAS SPIRIT, inspired by Eisner's own stories of the Spirit at Christmastime. The concept would be that the stories have recently been uncovered in a warehouse somewhere, done by the Eisner studio in the 40's when he was in the army. Short stories, 48 pages, Jeph writing, me drawing and the fabulous Mark Chiarello coloring. The other project is a coffee-table book of stories starring Batman and Superman, not together, but each in his own tale. The stories are pairs, and linked by a theme -- Sleep, Food, Home, like that. Big, like 220 pages, and oversized, a book anyone might want to own, not just those into comics. That's my dream, anyway.
And Now A few Questions submitted by members of the LoG forum for Mr. Sale. A Special Thank you to Tim for taking the time to answer so many!
Fan Question: How do you feel about the immense popularity of LongHalloween, as well as Dark Victory as being some ofthe most definitive books to come out in recenthistory?
TS:
It's not for me to place my work in a historical context, but I will tell you that it's pretty cool that the Batman Begins folks mention it, and it's always flattering when anyone likes your work. There is something about the combination of Loeb-Sale-Batman that seems to be greater than the sum of it's parts. I also attribute it a lot to the work of Bob Kane and Frank Miller, who created and then reinvigorated an icon. Jeph and I have just tried to keep true to the vision, and I think that lots of others get caught up in the continuity of it all.
Fan Question: How do you feel in response to that Chris Nolan hascredited your work on Batman as being part of what hefelt was needed into brininging the character to aproper respect on screen in Batman Begins ?
TS:
As I said, it's very cool. I am also aware that he is in charge of a multi-million dollar movie franchise, and that movies and comics are two different art forms. In my opinion, adaptations of ANY kind are very rarely successful in making the jump from one form to another. It almost never has to do with "faithfulness".
Fan Question: Are we ever going to forget about the Calender Man ?
TS:
Funny. No.
Fan Question: Do you have any tips for me and other people who want to be comic artists when they get older?
TS:
Just to draw all the time. There are so many resources around now that were not available when I was trying to break in -- I was 30, by the way, when I got my first comic job -- from the internet, to how-to books, to conventions where there are portfolio reviews. None of that means anything, however, without practice, practice, practice. You learn to do by doing. The old axiom is true, that everyone has 100-200 bad pages to draw before you draw your first good one, and that either invigorates you to get to it, or makes you say Darn it. But there is no other way. I copied everything I liked, and from a much wider range of things than comics. if you visit my website --
www.timsale1.com
-- you will see a bunch of book and website recommendations that have inspired me.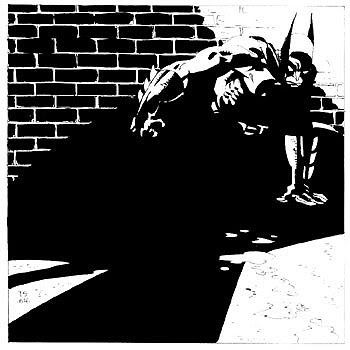 Fan Question: You announce a second Wave on your site, are there more figures planned for the future, for examplePoison Ivy or Solomon Grundy which often appeared inthe two series.
TS:
Not as far as I know. I imagine it partly depends on the success of the first two waves. Grundy would seem to be a natural, even though he is a minor player in our stories, because of his bulk. I'd personally love it. Ivy is much more of a challenge, though if it worked, it could be great.
Fan Question: Would you like to do another Batman series or move on to another character, if yes, which one? Maybe WonderWoman after Cheetah appears in When in Rome?
TS:
I have never thought Wonder Woman was very interesting, though what Darwyn did with her in NEW FRONTIER was pretty cool. I will tell you that, inaddition to the projects I've already described, I have had conversations with Darwyn about a Martian Manhunter/Slam Bradley storyline. Jeph and I also still love the Marvel characters, and would love to play some more in their sandbox.
Fan Question: With all the great Batman stories that are out there(and no disrespect to the other artists) is there onethat you would like to have been part of, or if giventhe chance go back and redo? (The Dark Knight Returns,Death in the Family, etc....)
TS:
Not really. Too much other stuff to do. The best work is a very personal vision, and should remain so. Does anyone really want to see someone redo Dark Knight Returns?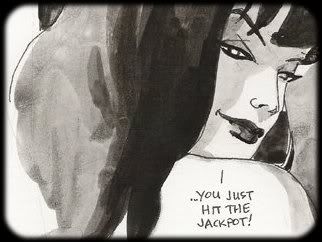 Fan Question: What do you personally think defines good, successful comic book art, and who are some of your personalfavourite artists in the medium (past and/or present)?
TS:
Storytelling is the defining factor, and there are a few ways that can be achieved. The standard definition is that one ought to be able to follow the story in basic terms just through the pictures, so that there is no need for exposition. That's what I try to do, and the way Jeph write for me because he thinks I'm good at it. But that's not the only way. Take a look at the great Lee-Kirby work and you will see how much of the story Kirby left for Lee to take care of. But who cares? The art is so dynamic and powerful that you are compelled to turn the page. So that's another way, but unless you are Kirby -- and you're not -- it's a dangerous road to travel, and one that eventually will cause writers to not want to work with you.
Here are a few thoughts:
Try to have something eye-catching on each page. The easiest way to do it is to pick a panel to be the "star", and make it the biggest. Your storytelling sense tells you which panel it should be -- an action shot, a hot chick, a cool pose, a detailed background, etc.
-- Develop different ways of drawing so that you can make your art fit the story, not vice-versa.
-- Ink your own work. Take the time to learn it. Take advantage of the fact that comics are an artistic medium that allows you to be as close to a god as you will ever get. You know how many people go into
making a movie? You can be all those guys.
-- My faves, in no particular order:
Jack Kirby
John Buscema
Steranko
Toth
Romita (Sr)
Ditko
Bruce Timm
Darwyn Cooke
Mike Kunkle
Neal Adams
Guarnido (BLACKSAD)
Pellejero (DIETER LUMPEN)
Yslaire (SAMBRE)

and from illustration:

Saul Tepper
Frazetta
Dean Cornwell
Al Dorne
Al Parker
Norman Rockwell
Russel Patterson
John McGinness
Renee Gruau
EO Hurst
Harry Beckhoff
I also have a large library of photography books and pop culture books, which are in increasing supply, thank goodness.
Fan Question: What is your view of the perception of the comic bookmedium amongst the wider mainstream audience, and whatdo you think could, or should be done to improve that perception and perhaps widen the audience and educatenon comic book readers on what the medium has to offer as an artform, and reel them in as readers?
TS:
The general public still feels a stigma attached to comics, and for the most part, rightly so. There's too much crap, and the kind of crap is often particularly silly and juvenile. Part of it is that there are just too many books on the stands, and there's no way to sustain that many monthly books. For comics ever to be taken seriously, I don't think the periodical nature can continue to dominate, and fortunately,
that's beginning to change. Better work, printed better and sold in a longer format without ads -- graphic novels, or TPB's. Weekly comics can survive, but just not dominate as they have, if comics are ever to be widely accepted as an art form. Most of ANY creative medium is crap, movies, books, TV, but they are all accepted as valid art forms.
Having said that, there is an increasing legitimacy conferred by the greater acceptance of pop culture as a valid and creative medium, and that's something Jeph and I want to take advantage of with the Batman/Superman book. There are only two icons at the top in comics (I put Wonder Woman and Spider-Man in the next rung down), and that's them.
Fan Question: Have you ever thought about trying your hand atwriting, as well as doing the art side of things? Orare you content or too busy with what you are doingcurrently as an artist?
TS:
I suck as a writer, and most importantly, don't have any ideas. I have opinions and tastes, but no ideas, and so haven't developed any craft at writing. I live by the good graces of Loeb...and maybe Cooke
someday.
Fan Question: What do you think are the prime ingredients that goto make up a truly great, and successful comic book?
TS:
The vision of the artists -- and a writer is an artist -- involved, and the ability to execute it. That includes funding and support by the publishers and editors. It's really rare, and should be.
Fan Question: Your first collaboration with Jeph Loeb on theChallengers of the Unknown seemed to
feature "denser"storytelling, with more panels per page andstoryboard-like panel-to-panel progressions, whereasyour later work starting with the Batman Halloween specials seems to focus more on large, bold images.
TS:
The short answer is that I hadn't brow-beat Jeph into shape yet (three horizontal panels on a page is always my goal), but really there was just a lot of experimentation going on, both in comics in general, and in our heads. It was Jeph's first comics work ever, and my first mainstream work, and we were anxious to show what we could do. I think it's a mess, but kind of a fun one.
Was this a natural evolution of style or more of a
deliberate choice?
As I said, a bit of both. One of my goals is to do comics that are attractive to people that don't usually read them, and I'm convinced when Joe or Mary Blow pick up a comic and find eight panels on a page and thousands of words, they put it down, deciding it's too much work. I do. So the stories in my perfect world have to be different, too, told at a different pace, because there are fewer panels to go by. But that's okay, so a three-part series becomes a six-part series, if it's good story, told well, and great to look at, who cares? Don't we want MORE cool comics, not fewer?
Fan Question: Just how much input do you have on the final product?If a design is not to your liking, do you have the power to "veto" it? How closely were you involved in their creation beyond your initial designs?
TS:
Depends. Ultimately we play with someone else's money, so the final decision is the companies. I worked with Mark Chiarello closely on the design of my volume of SOLO, the chapter breaks were my idea for instance, but Mark is a talented designer himself, and the basic template of the books are his. I personally really enjoy being involved in the designs. The DARK VICTORY designs were basically mine, cleaned up and executed by Robbin Brosterman. Jeph and I have fortunately had a track record of success, such that we are given much more input, and we both could not be happier with the designs of John Roshell, the head designer at Comicraft/Active Images who has done all the Marvel "color" books, and now the CATWOMAN WHEN IN ROME series. DC has it's own talented design staff, so there was a bit of a struggle, but it seems to all be working out to everyone's satisfaction. I personally think John is the best in comics, the way Chip Kidd is the top of the pop culture book field.
Fan Question: When working with the Bat-Villains, you've developeda number of particularly stylized designs(leaves-for-hair Poison Ivy stands out in particular).Personally, I love them, and I'm curious- what made you go with these 'new looks' as opposed to the more traditional character models?
TS:
More fun for me. I tried to take advantage of the fact we were playing in the early history of the heroes and villains, so we could always just say that later they changed their look. I approach it the way I do everything: what's the most effective way to visualize the coolest thing about a character (or city or clothes or whatever)? I'm grateful that DC has rarely, and not since SUPERMAN FOR ALL SEASONS, asked me to change or justify my personal "takes" on the looks of their characters.
Tim's message to the fans:: Thanks for letting me rant for entirely too long, guys and gals. It's been fun. Feel free to come to
www.timsale1.com
, and let me know what you think, and I will check back in to LoG periodically, too.
Take care
Tim The Wrap-up::
A
HUGE
thanks to Tim Sale for taking time out of his busy schedule to interact with his fans! Its a true sign of character when a artist will do this. We also would like to thank him for the images and sketches that he donated for the interview.
Please remember to visit Tim's official site and forum at
www.TimSale1.com
!