Post by /\/\att on Aug 16, 2007 10:01:03 GMT -5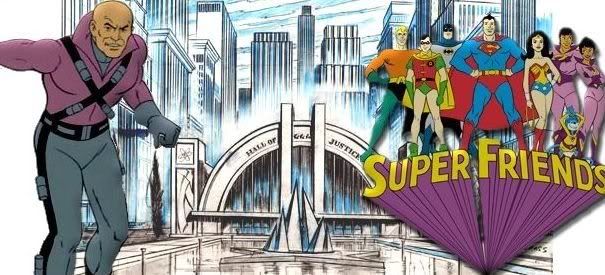 a LEGIONS of GOTHAM interview with:
Fernando Escandon
the voice of El Dorado in Super Friends!
from Fall 2005
LoG: How did it come about that you were cast on the show? Did you audition along a number of others, or were you approached about the role?
Fernando Escandon: I auditioned for the part.
LoG: How was the character of El Dorado explained to you at the time?
FE: As I explain briefly on my website
www.escandon.net
, my impression was that "El Dorado" was conceived with a clear and obvious purpose, to attract young hispanic viewers, considering the rapid growth of this community in the US. When I asked about it and after several auditions, I was told that the character represented a Mayan hero.
LoG: Do you have any fond memories or anecdotes that you can share with the fans about your time on SuperFriends?
FE: Fond memories?, of course!. I had the pleasure of working with some of the best and better known character voices in history. Adam West, Frank Welker, to name a few. They were both very kind and helpful. As I used to say to my children then, "Today I was fighting crime alongside Superman, Batman, the beautiful Wonder Woman and many other heroes. Then I will go on and tell them the whole story with my own changes, of that particular recording day. Boy, was I popular among their friends. My children to this day, remember those stories with a smile saying, "Daddy, we knew it was all pretend, but we loved it and than when it was shown on the air, we showed of by telling other children whatever was going to happen and re-live your story telling once again!. It was great!
LoG: Were you familiar with the DC comics super heroes before joining the cast?
FE: Of course, yes, I was familiar with every character.
LoG: Who were your childhood super heroes?
FE: My childhood heroes?. Superman and Wonder Woman
LoG: What do you think of the (now apparent) "politically incorrect" character(s) from that particular show, such as El Dorado, Apache Chief, Black Vulcan Etc? Was it as obvious then to anyone as it is now? Were there any concerns or was it simply not considered "offensive" by Anyone involved then? Or was it entirely/deliberately to incorporate more ethnic diversity into the show?
FE: I am very proud of having been part of that series. Token,
politically correct or whatever, I just loved it while it lasted, the political side or part of it, I leave it to the politicians, I am an actor and therefore I try to act.
LoG: Not sure if you're aware or not? But recently the new Justice League toon featured re-imagined, or "tribute" characters resembling such classic Superfriends as Apache Chief, Samurai, Wonder Twins, and Black Vulcan... but no new El Dorado. Any thoughts? or feelings of "neglect" (lol) and what would you think about an updated El Dorado or tribute character showing up? Your take?
FE: Yes I have fond memories of the short lived "El Dorado" character. I do not care if it shows up again or not, with my voice or somebody else's. What was during that time, was good enough for me. Man, who knows, tomorrow only exist tomorrow, I only care of what's now.
LoG: What other (if any) such voice work have you done?
FE: Other Characters:
"FROLLO" in Disney's Spanish version of Victor Hugo's "THE HUNCHBACK
OF NOTRE DAME", in which I also sing.
fernando.escandon.net/voice_overs_movies/BEATAMARIACLIP.mov
"DON TORO" the blacksmith in the series "JAKERS, THE ADVENTURES OF
PIGGLEY WINKS" Winner of several awards. (e.g.) EMMY.
pbskids.org/jakers/
I just finished (September 2005) a pilot for a new Cartoon series
for NICKELODEON, "EL TIGRE"
LoG: Would you like to say anything to the legions of
SuperFriends fans out there reading this?
FE: Keep the faith, we are here for a purpose. The world is yours.
LoG: On Behalf of the Legions Of Gotham SuperFriends SuperSite and the SuperFriends fans everywhere, thank you for taking the time to chat with us!
FE: Thanks to talented people like you, our characters, might live
forever. It was a pleasure and thank you. Fernando Escandon