Post by /\/\att on Jun 18, 2007 9:27:08 GMT -5

About Serials:
Serial Films were some of the earliest forms of film during the silent era through to the 1950s, often episodic in form (usually with 12-15 parts) and simplistic in plot, that were shown over a period of weeks or years. The multi-part films consisted of episodes that could be anywhere between fifteen and twenty minutes in length. The segments were presented one chapter at a time in weekly installments over the course of time. Serials were usually included during the shorts projected in a neighborhood movie theatre, offered before the feature film, B-western, or Saturday afternoon 'kiddie' matinee. They were often scheduled along with lots of cartoons, newsreels, other two-reelers, and theatrical trailers/previews.
-filmsite.org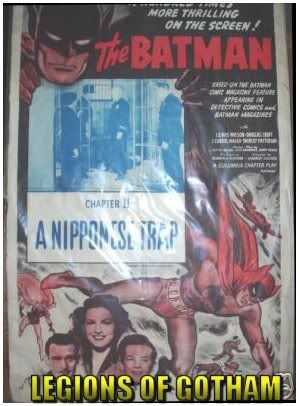 The Original Theatrical Poster!
1943 Batman Serial Plot
Based on the comic book characters of Bill Finger and Bob Kane, Batman and the Boy wonder do battle with the evil Dr. Daka. With the aid of his zombie army he tries to steal America's radium for the Axis powers
Number of Chapters:
15
Studio:
Columbia
Color:
Black & White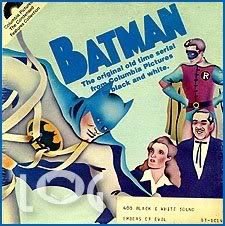 Chapter Titles
1) The Electrical Brain
2) The Bat's Cave
3) The Mark of the Zombies
4) Slaves of the Rising Sun
5) The Living Corpse
6) Poison Peril
7) The Phoney Doctor
8) Lured By Radium
9) The Sign of the Sphinx
10) Flying Spies
11) A Nipponese Trap
12) Embers of Evil
13) Eight Steps Down
14) The Executioner Strikes
15) The Doom of the Rising Sun
Credits
Director: Lambert Hillyer
Producer: Rudolph C. Flothow
Screenwriter: Victor McLeod, LeslieSwabacker, Harry Fraser
Cast
Batman/Bruce Wayne: Lewis Wilson
Robin/Dick Grayson: Douglas Croft
Dr. Tito Daka: J. Carrol Naish
Linda Shirley Patterson: Shawn Smith
Alfred: William Austin
Capt. Arnold: Charles C. Wilson
Ken Colton: Charles Middleton
Foster: Robert Fiske
Preston: Michael Vallon
Martin Warren: Gus Glassmire
Now Available on DVD!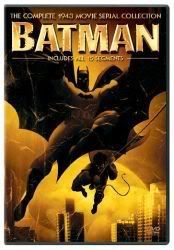 Batman Serials -- 1943 Batman Serial - 1949 Batman Serial -- Batman Seriels -- Batman Black and White -- John Johnny Duncan Interview 1949 Robin