Post by /\/\att on Jun 18, 2007 9:30:03 GMT -5

About Serials:
Serial Films were some of the earliest forms of film during the silent era through to the 1950s, often episodic in form (usually with 12-15 parts) and simplistic in plot, that were shown over a period of weeks or years. The multi-part films consisted of episodes that could be anywhere between fifteen and twenty minutes in length. The segments were presented one chapter at a time in weekly installments over the course of time. Serials were usually included during the shorts projected in a neighborhood movie theatre, offered before the feature film, B-western, or Saturday afternoon 'kiddie' matinee. They were often scheduled along with lots of cartoons, newsreels, other two-reelers, and theatrical trailers/previews.
-filmsite.org
The Original Theatrical Poster!
"I think the site is great. Overall I think you could find anything you want on [Legions Of Gotham]."
--Johnny Duncan, Robin in the 1949 Batman & Robin Serial
Click HERE to read our exclusive interview with Johnny Duncan >>>
1949 Batman & Robin Serial Plot
Batman and Robin confront the Wizard, a criminal genius on the loose in Gotham City with a remote control ray gun
Number of Chapters:
15
Studio:
Columbia
Color:
Black & White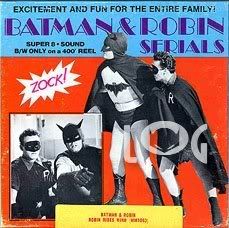 Chapter Titles
1) Batman Takes Over
2) Tunnel of Terror
3) Robins Wild Ride
4) Batman Trapped
5) Robin Rescues Batman
6) Target-Robin
7) The Fatal Blast
8) Robin Meets the Wizard
9) The Wizard Strikes Back
10) Batmans Last Chance
11) Robins Ruse
12) Robin Rides the Wind
13) The Wizard's Challenge
14) Batman vs. The Wizard
15) Batman Victorious
Credits
Director: Spencer Gordon Benet
Producer: Sam Katzman
Screenwriter: George H. Plympton, Joseph F. Poland, Royal K. Cole
Cast
Batman/Bruce Wayne: Robert Lowery
Robin/Dick Grayson: John Duncan
Vickie Vale: Jane Adams
Commissioner Gordon: Lyle Talbot
Harrison: Ralph Graves
Nolan: Don Harvey
Prof. Hammil: William Fawcett
Carter: Leonard Penn
Barry Brown: Rick Vallin
Dunne: Michael Whalen
Now Available on DVD!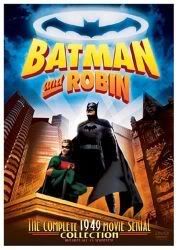 Batman Serials -- 1943 Batman Serial - 1949 Batman Serial -- Batman Seriels -- Batman Black and White -- John Johnny Duncan Interview 1949 Robin